Luxury Fireplace transformation in Atherton, Greater Manchester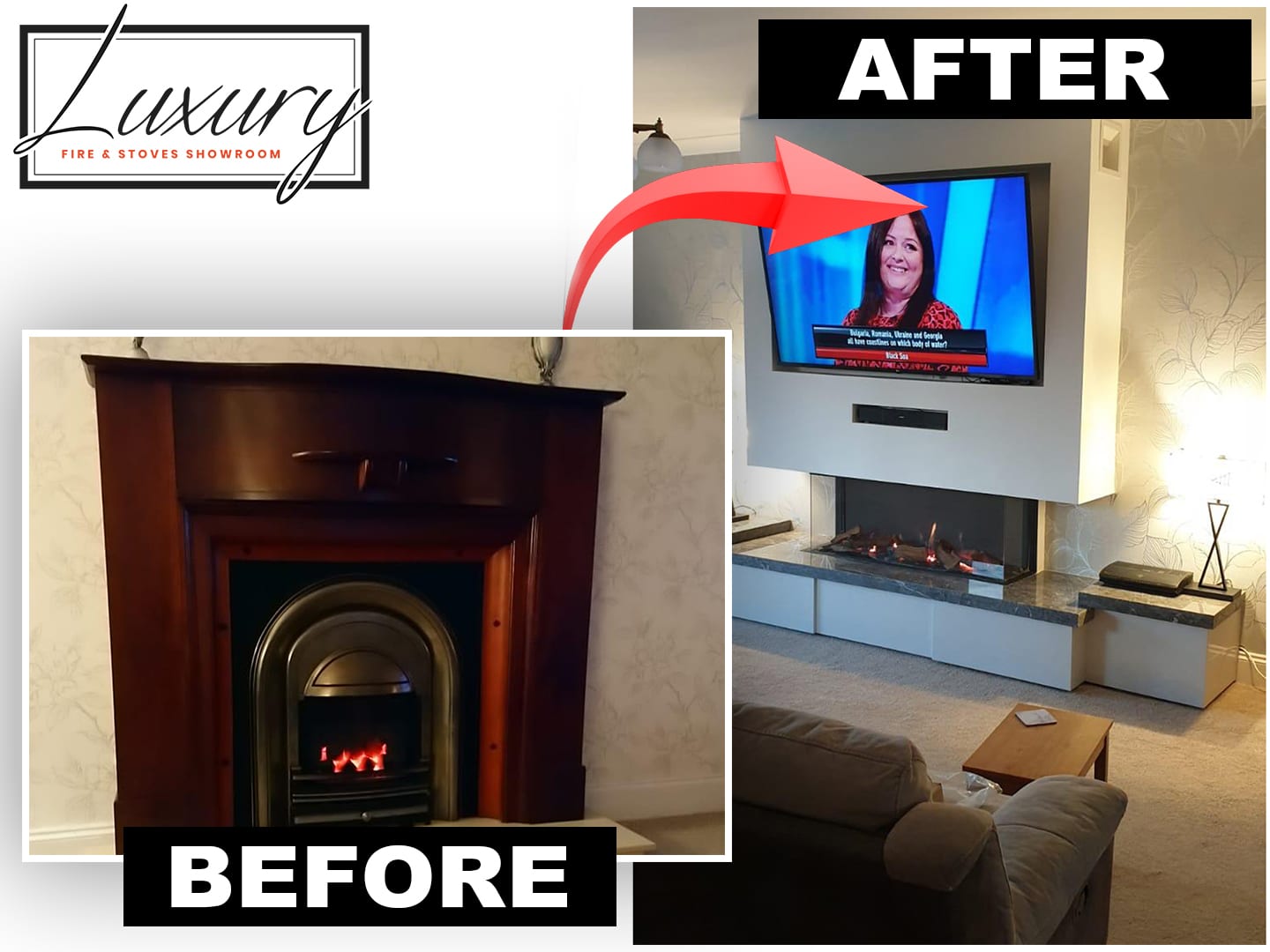 Luxury Fireplaces in Greater Manchester
Having a fireplace sitting there neglected, unloved and worn out is the big message you need to revitalise your space and introduce a new luxury fireplace into your home. Fitting a new fireplace doesn't have to be a major job including adding a chimney or excessive amounts of pipes; we have flueless gas fireplaces in a range of styles and designs ready for your transformation.
With such a large range of fireplaces to offer across the North West of England, we are sure you will find a perfect fireplace for your home whether it is an electric fireplace, gas fire or even a log burning stove. If you simply want to bring some modern features into your home or add a premium room dividing display, view our range to find your perfect piece.
Talking about bringing a modern fireplace into your home, take a look at this fireplace transformation taken out in Atherton, Greater Manchester for the lovely Mr & Mrs Matthews. From the initial consultation, the planning stage and the finished product, this whole luxury fireplace transformation really revitalised their room.
About this Luxury Fireplace Transformation
This transformation allowed the Matthews household to bring a luxury fire into place, you can see how visually captivating their new fireplace is with the facilities to have their tv included in the display. Don't restrict yourself, find the designs you want, view the entire range of over 50+ live fireplaces on display at our Manchester fireplace showroom.
Are you in the Greater Manchester, Lancashire, Cheshire or surrounding area? Fancy a new luxury fireplace in your home, we are your people. With a team of experts with years of experience in the industry. Our team of industry-leading professionals are able to help you from the offset and through out, with help pre-planning on what you want, finding the perfect fireplace, 3d renders of how this will look in your home and then taking out the work to the highest quality possible leaving you with a hassle and stress-free fireplace transformation.
The team at luxury fire showroom are always welcome to all your enquiries, come and visit us, have a coffee with us and lets get you on track to transform your fireplace.