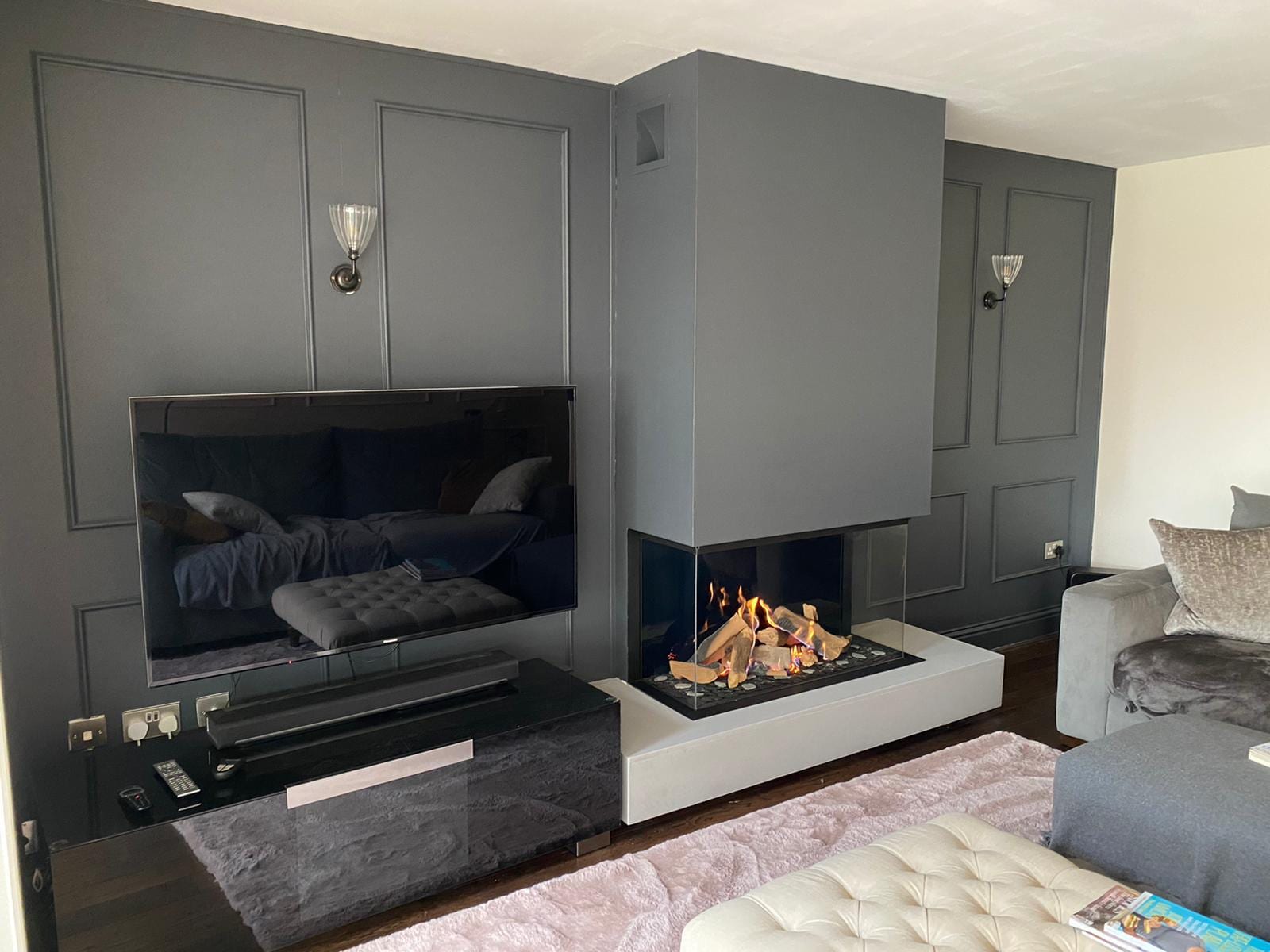 Luxury Fire Showrooms latest Fireplace Transformation in April!
The team at Luxury Fire Showrooms in Manchester have had the honour to design, supply and fit this latest stunning fireplace for Taylor. With a multistage process to execution, we can say that this was a joy to do!
The Planning Process
After consulting with the client Taylor, we produced a highly accurate 3d render of the display in the room. This allowed for an accurate representation of the fireplace and how our luxury fire would look in their home.
After discussing colours, designs, sizes and more. Taylor came to a decision to introduce a stunning fireplace into his room.
With accurate measurements, our 3d render allowed for a precise bespoke design to be installed into their home. This fully customised fireplace was designed by our expert team here at Luxury Fire Showrooms and you can have the same made for you!
The outcome of this luxury fire and fireplace
It's easy to say that this stunning fireplace speaks for its self. With modern colours and a sleek design, it easily revitalised the entire room becoming an economic feature within Taylors home.
Our in-house team took care of all aspects from design and build. With years of experience and expertise, we managed to implement this fireplace with little to no inconvenience. 
How can you get started with your fireplace transformation?
To begin your transformation all you need to do is simply, get in touch with us via email, phone, website or even visit us in our Manchester based fireplace warehouse! Our team are always on hand to help with all your enquiries and needs.
We hope to see you soon.
Contact us
LUXURY FIRE SHOWROOM
​
5 LABTEC STREET
BOLTON ROAD
MANCHESTER
M27 8SE
​
​0161 641 3617
Opening times
Mon 9:30am – 5:00pm
Tues 9:30am – 5:00pm
Weds Closed
Thurs 9:30am – 5:00pm
Fri 9:30am – 5:00pm
​
Sat 9:30am – 5:00pm
Sun 10:00am – 4:00pm
Quick call back
Leave your details below and we'll call you straight away…